I.
Between feeling grateful and undeserving, I have spent this year subconsciously waiting for someone to give me the permission to be happy. On the surface, it may seem like I have quite accomplished a lot in 2019: (1) an unexpected promotion to a dream title, (2) a brand new home we get to call ours, and (3) a community where I found purpose. Underneath, however, lingers layers of guilt—mixed in a bowl of sadness. Apparently ticking certain boxes others define as 'success' does not mean that you're protected from a different kind of pain that comes with adulthood.
II.
2019 is the year with many good byes. One of my best friends moved abroad indefinitely. He was a non-judgmental confidant and a competitive board game partner, although we still couldn't explain why or how we ended up as friends. We still chat regularly slash respond to each other's Instagram story with an emoji, but it's not quite the same. I'm just glad that we got to say an intimate good bye that I still cherish to this day.
Just a couple of months later, my mentor-friend followed his lead, although not to the same country. He was an office neighbor who used to stop by just to talk about animals, and from time to time invited Wikan and I for dinners. After he left, I effectively lost the anchor that had allowed me to not just survive, but actually navigate the new habitat I moved into. I hope he knows that he trained me well, because I have made a home out of the winds blowing my ship to various directions since he left.
Other than these two, at a different scale but still very much felt, I had to bid farewell to an officemate from whom I learned a lot (one of the most hardworking people I've ever known), two passionate environmentalists slash boss women I look up to who took me under their wings and opened doors for me, and an old friend who's now conquering New York as a law school student.
Meanwhile, the two best friends who actually came back home to Jakarta this year, I feel like I keep failing to reconnect with. Maybe it was because I worked too much, or they worked too much, or both. But truth be told my biggest fear is that maybe in the three years we stopped hanging out, we simply grew apart. If that's true, I hope they know that I still love and wish the best for them regardless.
All in all, it's been a relatively lonely year. There are glimpses of moments when I got to hang out with friends in one-on-one lunches/coffees/dinners or big groups, and I cherish those deeply.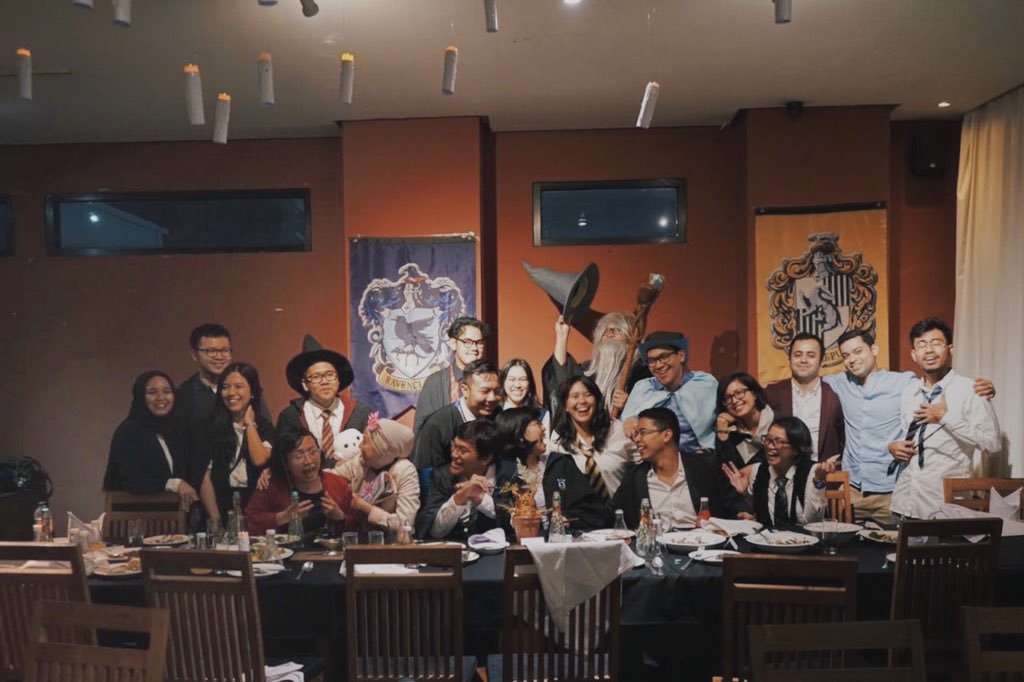 III.
It is also an important year when I've tried to figure out what being a 'married daughter' means. As my dad got diagnosed with parkinson's disease, I started wondering about what that would mean to us as a family, how we could be the support system that he needs us to be (or not to be). Reading journals and watching videos helped, as I understand that other families have found ways to make sure that their diagnosed loved ones could still have a full life. But even after all that, I still couldn't settle down with what counts as enough. My worldly ambitions had defined who I am, but they now seem arbitrary in comparison.
That said, just last weekend (last of 2019) a good friend reminded me that maybe my parents' happiness stems from mine, so as difficult as it is, I still want to pat myself in the back for several good (great?) things that actually happened to me this year. They mostly come in the form of 'homes'—some more literal than others.
IV.
The first 'home' began with an Instagram story that grew into a group of over 100 passionate individuals and growing. It was an evening after the head of International Relations department in my alma mater asked me, "If we were to invite you (to guest lecture), what exactly would you like to share about?" Her question helped me realize that what I really want to teach about is public policy—i.e. the art of creative problem-solving in the public sector.
Since she obviously wouldn't let me do that in her classrooms (and perhaps it's my way to cope with rejections), I decided to just create my own classroom. One thing leads to another (including a nagging, amazing old friend who showed up to actually drag me to do it), and suddenly almost 600 people applied to what was a pilot series of 12 classes (we had to select 30 of them). From then on, one by one more people have come forward to kindly say that they have faith in this movement, and by doing so gives me the conviction that we have to move forward. 2020 will be an exciting year full of possibilities. Lin-Manuel's Hamilton puts it best: just you wait.
V.
The more literal home, however, was slightly more planned than that. For so long, Wikan and I had known that we wanted our very own house, as homemaking has always been our favorite project as a couple. After busting our asses off and saving up for the past few years, we finally had enough to make a downpayment and signed a mortgage for the perfect house in May. As a nomad of a little over 13 years (4 of them with Wikan), finding relative permanence was a great deal of blessing.
We moved to the outskirt south of Jakarta in October, and since then we have been mostly occupied with the business of homemaking. Between dining table and bedsheets, the highlight for yours truly had been the three white bookcases that we won't have to knock down in twelve months, where I could take out my books from their boxes and organize by genre/author. At the end of 2019, after three stressful-yet-enjoyable months of figuring out furnitures and layouts, we finally arrived at a place where the building felt like ours.
We now have a 5-10 year long mortgage and commutes are much longer now, but hey, we don't have to worry about not getting security deposit back if we nail the walls. What I do worry about, however, that having a home will start a sequence of much bigger changes we don't know yet about.
VI.
When I thought two were more than enough, the universe surprised me with one last trick up her sleeve—maybe because good things come in three (although maybe so do bad things). On September 25th, I received a call that allowed me to do what I've wanted to do for so long: telling the economic story of the environment. After being a research consultant for a little over a year in the organization, I finally was offered a term position as an environmental economist. I wasn't sure how I felt about it at first (and perhaps still don't until today) but one thing I do know is that it allowed me to finally belong. A new team I get to call home.
Since that call, there has been a lot of figuring out to do: as the new girl I did something wrong without knowing it, did something knowing it would have consequences, and sometimes they're both a little mixed up. In the beginning I felt lost, unsure whether they've made the wrong decision (especially since they rejected me at first), but it always helped to remind myself that so many women before me doubted themselves after they asked for more, but with hard work and the right support system, they made it work. So will I.
VII.
Finally, 2019 was a year of many first times. Beyond the 'three homes', it was the year when I joined my first (and second) public protest in Jakarta: the first one was on plastic waste, and the second was one of Greta Thunberg's Fridays for Future. On both, I was moved to see how some people really care, but more importantly, I was reminded that taking up public spaces matter. I always feel like it was an experience taken away from me during my undergrad, because I was too focused on the academics.
It was also the year I got to be on podcast interviews, which turns out to be quite enjoyable. I especially appreciated the interview with a friend on public policy, and one with another one on critical thinking and privileges. The hosts of both shows have helped me realize that good questions come from a place of empathy.
Among the many speaking engagements I had this year, one stood out. It was when I visited Semarang and met one of the most charming, kindhearted young women who called herself an admirer. I was moved by just how pure her intentions was, how genuinely she expressed her appreciation, how she hugged me, how I felt seen because she's read almost everything I've written online. It's the first time I feel like I've affected someone's life so deeply. At the end of our encounter, she gave me a long letter she's written, which I promised to treasure.
VIII.
Too many MRT rides (one of 2019 highlights!) and evening showers were spent thinking about whether I deserve any of it at all. Sure, I've worked hard for it, but so has everybody. Having an awareness about 'the system' and the socio-economic constraints that come with it, I know that none of these accomplishments are mine alone, and if anything they're reminders for me to give back as much as I could. I know that I owe much of them to my parents, to Eyang, to Wikan, and to friends who are one Telegram/WhatsApp chat away. Without this amazing support system I'm blessed with, I would've crumbled down into pieces.
I wondered if this guilt/undeserving feeling had anything to do with my childhood and upbringing, how my dad never quite allowed me to be proud. If I came home with math score of 90 he would've joked, "Maybe it was a typo!" When I won a gold medal in a nation-wide math competition, he brushed it off with, "They must've mistaken you for another Andhyta!" Looking back, I think it trained me to never take my achievements for granted, and to never feel entitled. Or maybe the guilt had to do with my being a Sundanese, with my tendency to over-empathize, with my bring a confused human being.
IX.
It would've been a lie to say that 2019 has not been a good year. Feeling guilty about the good things that happen might be a "non-issue" for some of you or, borrowing a friend's line, "a good problem to have". I am grateful—immensely so—but it's still a dissonance that occupies my mind.
For 2020, I wish to stop being apologetic, I wish that humility will stay a company, and I wish to finally find a way to be both a good daughter and a woman with ambition for myself.
Happy new year!